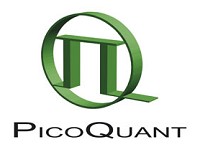 It is our pleasure to mention the PicoQuant Company as a user example for our nanorulers.
Our GATTA-STED 140ROR ruler (with an ATTO 647N edge-to-edge distance of 160 nm (in red) and an Alexa Fluor 594 mark in the middle (in yellow)) was presented on the 8th European Short Course on "Time-resolved Microscopy and Correlation Spectroscopy" from March 8-10, 2016 in Berlin. The MicroTime 200 STED thereby created eye-catching images and made it easy to resolve the two-color ruler by overlaying both channels, showing a clear separation of the spots. 
Further nanorulers with a mark-to-mark distance of 90 nm were presented on the 20th international workshop on "Single Molecule Spectroscopy and Ultrasensitive Analysis in the Life Sciences" from September 2nd to 5th 2014 in Berlin. The MicroTime 200 STED easily resolved the 90 nm distance between the two marks on each ruler. Corroborating the long durability of our ruler samples this measurement could be repeated two months later yielding to nearly the same result.