Fluorescent beads are important microscopy tools which can be used for calibration of microscopes, particle tracking or quantitative determination of point spread functions especially in STED microscopy. Particularly for the last point a small structure size keeping a high brightness is an immense advantage. Products from the GATTA-Bead series fulfill this requirement perfectly with a diameter of only 23 nm. Additionally, they show a clearly improved homogeneity and flexibility compared to other beads. We offer GATTA-Beads in the colors red (ATTO 647N), orange (ATTO 594), green (ATTO 542) and blue (Oregon Green 488). Moreover, we offer alternative dyes which are indicated on the table below.
Additionally, we also offer 2-color beads in the color combinations red/orange, red/green and red/blue.
On request we can also design special solutions for your specific requirements. All samples will be delivered on a sealed glass slide which you can comfortably put directly on your microscope.
 GATTA-Beads - brightline
The GATTAquant Brightline series delivers you a much better tool for your experiments and calibration measurements we now developed a new series of GATTA-Beads featuring an even higher fluorescence brightness but without any loss of compactness compared to previous GATTA-Beads.
Currently we provide as colors orange (ATTO 594), yellow (ATTO 565), green (ATTO 542) and blue (Alexa Fluor 488 and Oregon Green 488) beads.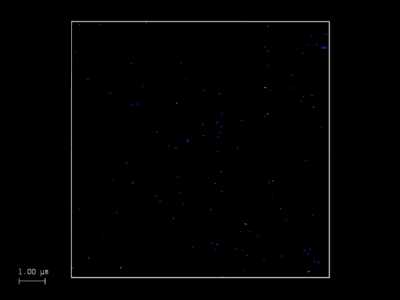 3D stack of GATTA-Beads R measured at VUmc, Amsterdam, on a Leica TCS SP8 STED 3X. 3D PSF distillation and rendering by Scientific Volume Imaging using the MIP renderer in Huygens Professional
The standard version of our GATTA-Beads you can still request on our legacy products page.

Full size super-resolution Image of GATTA-Bead R

Full size super-resolution Image of GATTA-Bead G

Full size super-resolution Image of GATTA-Bead B

Full size confocal Image of GATTA-Beads G

Full size confocal Image of GATTA-Beads G - brightline
Image Courtesy: Christian Jüngst, CECAD Imaging Facility (confocal)
J.J. Schmied, R. Dijkstra, M. Scheible, G. M. R. De Luca, J. J. Sieber, GATTAquant GmbH, Scientific Volume Imaging (SVI), Leica Microsystems (2016): Measuring the 3D STED PSF with a new Type of Fluorescent Beads – Science Lab