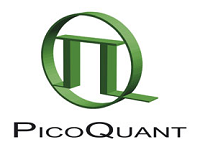 Wir freuen uns, dass wir an dieser Stelle die Firma PicoQuant als Anwenderbeispiel für GATTAquant-Nanometerlineale erwähnen dürfen.
Unser GATTA-STED 160ROR Nanometerlineal (die äußeren Punkte (in rot, gelabelt mit ATTO 647N) haben einen Abstand von 160 nm und einen Mittelpunkt (in gelb mit Alexa Fluor 594 gelabelt)) wurden auf dem 8th European Short Course on "Time-resolved Microscopy and Correlation Spectroscopy" vom 8-10 März 2016 in Berlin präsentiert. Das MicroTime 200 STED lieferte dabei eindrucksvolle Bilder und war durch Überlagerung der Kanäle und Farben problemlos in der Lage, die Punkte des zwei-farbigen Nanometerlineals klar und deutlich voneinander zu trennen.
Ferner wurden  GATTAquant Nanometerlineale mit Markierungsabständen von 90-Nanometer verwendet, um auf dem 20. internationalen Workshop für "Single Molecule Spectroscopy and Ultrasensitive Analysis in the Life Sciences" vom 2. bis 5. September 2014 besagtes Mikroskop vorzustellen. Das MicroTime 200 STED lieferte auch dabei eindrucksvolle Bilder und war ohne Probleme in der Lage, die 90 nm voneinander entfernten Markierungslinien auf den Proben optisch aufzulösen. Eine Wiederholung der Messungen zwei Monate später führte zu nahezu unveränderten Resultaten und unterstrich somit die lange Haltbarkeit der unserer Proben.