DNA-PAINT Starter Kit
Your start into the world of DNA-PAINT.
GATTA-PAINT nanoruler and MASSIVE-AB 1-PLEX kit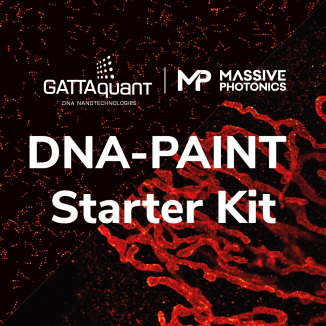 DNA-PAINT is a localization based super-resolution imaging technique with several advantages. It offers:
Sub-20-nm spatial resolution
No photobleaching
No photoswitching of dyes necessary
Compatible with standard microscopes
Easy spectral multiplexing
Step into the world of DNA-PAINT with our starter-kit containing one ready-to-use GATTA-PAINT 80 (R or Y) nanoruler slide and one MASSIVE-AB 1-PLEX labeling kit for 1-color (ATTO 655 or Cy3B) DNA-PAINT measurements in biological cells. Please find further information below.

Collaboration product between GATTAquant and Massive Photonics.
product properties the DNA-PAINT Starter kit
| Color | red | yellow |
| --- | --- | --- |
| Available fluorophore | ATTO 655 | Cy3B |
| Recommended laser s | 625 - 665 nm | 530 - 560 nm |
| Nanoruler | GATTA-PAINT 80R | GATTA-PAINT 80Y |
| Surface density | ≈ 1/µm² | ≈ 1/µm² |
| Distance | 2x 80 nm | 2x 80 nm |
| Antibody | anti-mouse | anti-mouse |
| | | |
| Antibody | anti-rabbit | anti-rabbit |
| | | |
| Amount | 100 µL antibody (recommended dilution 1:200) | 100 µL antibody (recommended dilution 1:200) |
| Buffer | sample preparation and imaging | sample preparation and imaging |
| Price | 500,-€ | 500,-€ |