GATTA-STED Nanoruler
Being the first super-resolution microscopy technique the STED method revolutionized the light microscopy. With the nanorulers from the GATTA-STED series now adequate calibration probes are finally available. The single color nanorulers carry two fluorescent marks out of dense arrangements of the high quantum yield dye ATTO 647N. We offer the mark-to-mark distances in the sizes 50 nm, 70 nm, 90 nm and 120 nm. In addition we offer a new design containing three emitting points with two different fluorophores which allows the acquisition of very eye-catching images. The multicolor nanoruler with three emitting points is available with the size of 140 nm (ATTO 647N & ATTO 594).
On request we can also design special solutions for your specific requirements. All nanoruler samples will be delivered on a sealed glass slide which you can comfortably put directly on your microscope.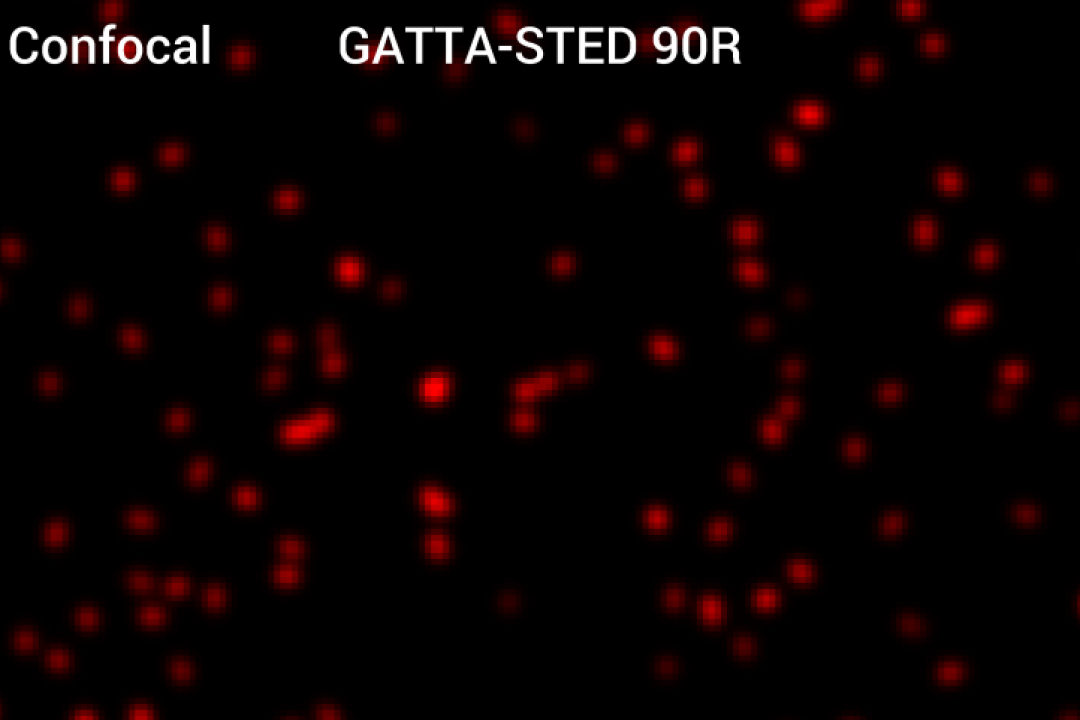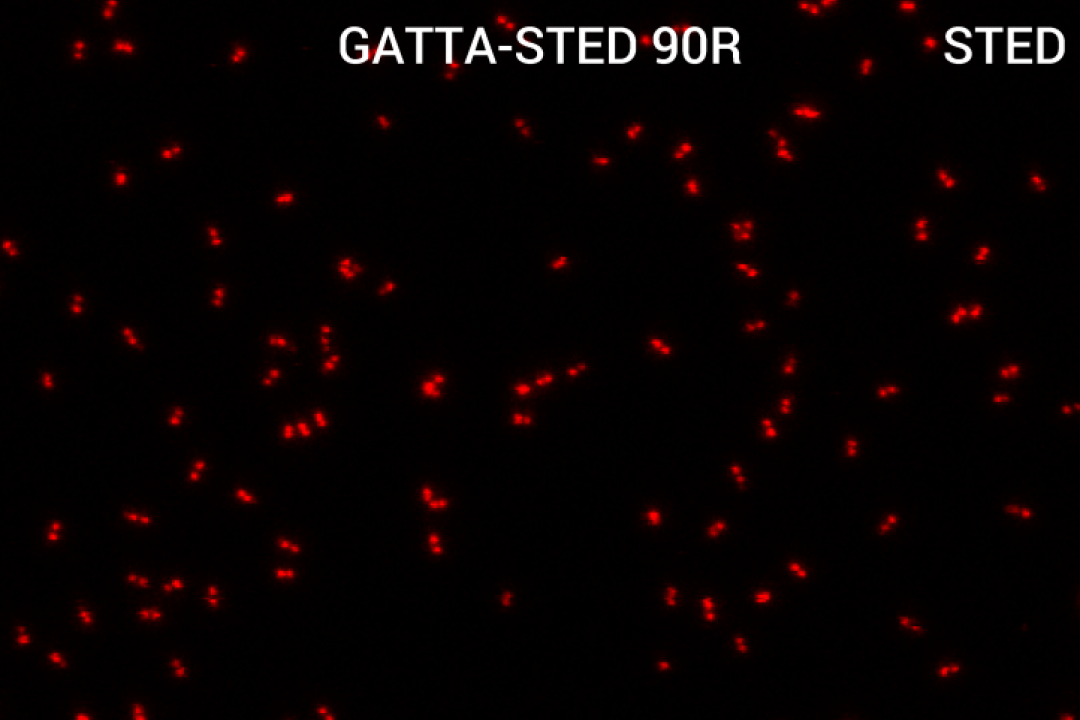 GATTA-STED - brightline
The GATTAquant Brightline series delivers 
you a much better tool for your experiments and calibration measurements we now developed a new series of GATTA-STED nanorulers featuring an even higher fluorescence brightness but without any loss of compactness compared to previous GATTA-STED nanorulers.
Currently we provide as colors red (ATTO 647N), blue (Oregon Green 488) and multicolorer nanorulers with the combination of red (ATTO 647N) and orange (Alexa Fluor 594).
The standard version of our GATTA-STED nanorulers you can still request on our legacy products page.
Beginner: Samples to check the basic functions of your microscope. Easy to resolve, also for beginners in the field of microscopy.
Advanced: Samples to optimize the settings of your microscope. Advanced experience is necessary in order to resolve the nanorulers.

Full size super-resolution Image of GATTA-STED 90R*

Full size super-resolution Image of GATTA-STED 71R (replaced by STED 70R - 2 spots)

Full size super-resolution Image of GATTA-STED 140ROR*

Full size super-resolution Image of GATTA-STED 140ROR**
*measured by PicoQuant GmbH with the MicroTime 200 STED.
**measured by CECAD Cologne with the Leica Microsystems TCS SP8 STED 3X.
Image Courtesy: Christian Jüngst, CECAD Imaging Facility (brightline comparison)